Memorable Songs about Vampires
There are hundreds, maybe even thousands of songs about vampires that have been recorded over the years. Like all songs, some have staying power and others fade much like real vampires dissolve in the light of day. Of course, if the song gets attached to a hit movie or even a hit video game, it doesn't hurt its lasting power.

Below are some of the songs that have pierced the souls of many vampire fans. Some new ones that are creeping into pop culture now are at least two or three years old but just starting to make their mark.


Blue Öyster Cult, 'Nosferatu'
Paying tribute to the 1921 German version of the movie Nosferatu, this vampire song plunges listeners into the dark romance of a vampire and the women who fell in love with him – Dracula and Lucy.

She dreams of him constantly and knows that to "cure" him of his disease – being a vampire – it would take the kind of pure love without blemish that Lucy could offer. Lucy knows that the millions of people dying from what was believed to be Black Plague were really dying from vampire attacks.



Only Lucy knew the truth
And at her window
Nosferatu




H.I.M. 'Vampire Heart' 'Killing Loneliness' and 'Wings of a Butterfly'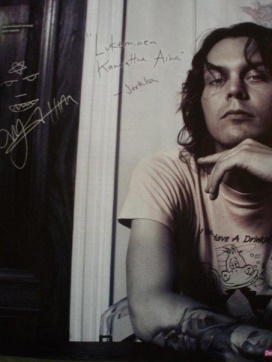 Ville Valo, the lead singer of H.I.M, who wrote all three songs on the Dark Light album that were chosen for this list, describes himself as a rock artist and others label him as a metal artist. In 2005, the two genres merged quite a bit and the overlap is evident in Wings of a Butterfly.





Yet, Vampire Heart is winning hearts again and this one is sure to last as long as the lovers in "Underworld". It is worth mentioning that Valo and H.I.M. are the only Finnish Band to ever get a Gold Record by U.S. distributors. And, it was this album that did it.





If you're ever in the mood for some of that slow, sultry New Orleans bluesy-dirge music, check out Bloodletting. Talk about the perfect music for the preamble to lovemaking! As any good vampire fanatic knows, New Orleans is packed full of some of the most interesting vampires anywhere in North America.

Tried reading passages from an Anne Rice novel with this song playing in the background and see how your own vampiress responds to you. The vocalist, Johnette Napolitano – don't know if she's related to the famous judge in New York or not – has the perfect silkiness in her voice to make you believe that you want to be chomped on.


Reich Mir de Hand
One that you may have missed because it has been floating around Europe and just making the transatlantic crossing in the last few months is by Bluetengel on the album 'Sign of the Zodiac'. Maybe, it's the name that put you off because it is in German.

The video is very continental in style and the song very powerful. Reich Mir de Hand rumbles its way into your being and settles like the warm glow of a good wine. The following translation is not literal because there is an intent that a literal translation misses.



But, it is accurate.
Reach out your hand, our world will melt
Doubts and fears will dissolve in the fires
Grab my hand, our world will fuse
Our pride and our blood together for all eternity




Well, that about says it all.





Kings of Leon, 'Closer'
The Followill brothers, more commonly known as the boys who make up the Kings of Leon band, are sons of a southern Pentecostal preacher. Their father certainly stressed the importance of good and evil and the band listened respectfully – until they got into popular music.

Every song on the 2008 Album has that southern rock charm that causes feet to tap and hearts to swoon. Closer was one of their biggest hits ever and is still one of the top vampire song favorites. It's about the vampire that's sorry that he's a vampire and asks forgiveness. Wonder where that theme came from?